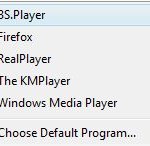 Whatever be your profession, it doesn't matter how busy you are in your life. You will listen songs, watch movies for sure and computer plays an important role for such entertainment stuffs always.
You must be using any one of your favorite Multimedia player to play songs, watch movies, video tutorials, etc. So which player is your favorite one? Mine is all time favorite KMplayer.
5 Multimedia players that I have are (Ranks may differ person to person):
1. KMPlayer
First things its free and plays almost any video formats at its best. Takes very less space and runs audios/videos hassle free.
Keyboard shortcuts make it very easy and comfortable to use. Its very user friendly too.
The KMPlayer is a versatile media player which can cover various types of container format such as VCD, DVD, AVI, MKV, Ogg Theora, OGM, 3GP, MPEG-1/2/4, WMV, RealMedia, and QuickTime among others.
It handles a wide range of subtitles and allows you to capture audio, video, and screenshots in many ways.
Click here to download. For more details about it, read our previous article on it.
2.
VLC Multimedia Player
It is also open source and latest VLC player also plays almost everything. But its not so user friendly like KMPlayer. After using it for few days, you may be habituated for it too.
VLC comes with nearly every codec built in, so no need to update for codecs.
It plays damaged files too! Which means Missing or broken pieces won't stop VLC to play undamaged part of it.
Its available for all Operating Systems which makes it most popular all over the computer users.
You can download VLC Player from here.
3.

Real Player
a. If you use internet to watch videos, downloads audio/video files from youtube, apniisp etc then You might need Real Player too!
b. Very few players supports .rmvb. It plays .flv, .mpeg, .avi and other various formats too
c. Real player is also available in all O.S. flavors and its available for free and for premius use too (paid one)
d. You can download videos, share through FB, youtube, twitter and can burn too!
e. For more details and to download this player Visit here
4.

Windows Media Player
a. Most computer users would have windows Operating system by default and it contains WMP already. So people get used of it. WMP 11 is really cool and has really all features that other media players have.
b. A tree-style file directory makes it easy to find the music you want quickly, and a simple search box gets you where you want to go immediately.
c. A five-star rating system lets you rate your music, then organize it by rating, so it's easy to group your favorite songs
I have used winamp, jukebox and BS Player too. BS Player is the newest one and winamp is all time favorite for listening audio songs.
Winamp is available for android too. Its skin, and playing features can attract anyone to have it in their system.
BSPLayer is very light, so don't take much CPU space, downloads and saves subtitles automatically. Plays high resolution video smoothly. HD Laptop users should have it .