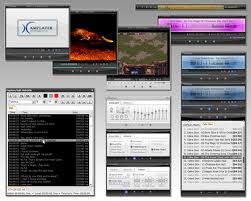 From Last 5 years i am using internet and Windows O.S in my system. I tried many multimedia players for my videos, movies of different formats. Few media players supports and few does not support many video formats. I was looking for all in one multimedia player and after using KMPlayer, I barely use any other player in my system.
KMPlayer is one of the most powerful freeware video players that I  have seen and used till date. It includes almost all sort of video- and audio-capturing/playing options, as well as skins, too many  playback controls and tweaks, and broad DVD support. It plays HD format videos too. If you are using HD resolution Laptop or desktop, you can surely use it

The KMPlayer is a versatile media player which can cover various types of container format such as VCD, DVD, AVI, MKV, Ogg Theora, OGM, 3GP, MPEG-1/2/4, WMV, RealMedia, and QuickTime among others. It handles a wide range of subtitles and allows you to capture audio, video, and screenshots in many ways. The  Only problem that i personally felt is, you can't use forward backward button in VOB or DAT format. If you do so it will take more time to seek. Other than that this is one of the best Multimedia player to have.
Download Latest version KMPlayer 3.0.0.1438 from here
Few Things that you can use with Keyboard shortcuts very easily in KMPlayer:
Alt+E to open playlist
Alt+G to open control box where you can change setting of colors, effects, screen
You can use left arrow and right arrow to skip audio or video by 5 seconds
Ctrl+right arrow  key will skip(forward) audio/video for 30 seconds and ctrl+ left arrow key will move 30 seconds backward
alt+right arrow key will forward audio/video for 1 minute and alt+ left arrow key will do reverse of it
alt+A for audio capturing and alt+C for video capturing
ctrl+E to capture frame or say a screenshot of what you are seeing. (all captured stuffs will be in capture folder where kmplayer is installed. Usually i will be C:/program files/The kmplayer/capture/)
Alt+X to show/hide subtitles
right square bracket ] and left square bracket [ to set subtitle with audio, in case if its not synchronised properly.
Space to pause and play
Enter for full screen mode
M for mute on/off
Rest I would say explore more to have more fun 🙂
Note: Mplayer is there for same purpose in UNIX based system. i have used Mplayer in Fedora 12