Hi folks!, Why to use any proxy server or any application when we can achieve the same thing just by tweaking firefox a little bit? Most of the people have account in facebook. People use to open it in an organization frequently. Second things that users wish to do is chat over yahoo or skype or gtalk or aol or jabber etc. Make Firefox to work for facebook:
Click on Tools->options
Click on advanced tab (you will see general, tabs, content….advanced at last)
Click on Network (second option after general)
Under connection click on setting button (a pop-up box will come out)
Check Manual proxy configuration radio button

Leave SSL and SOCKS host blank at IP address and port no: 0
For the rest HTTP, FTP Gopher leave as it is being set by your organization

You are done! Click on Ok and come out of all those options. Try to open facebook or meebo or chat based site (except orkut). If its saying access denied, try that link with https i.e. https://www.meebo.com or https://www.facebook.com Now it will open (working for me).

For chat option you can use https://www.meebo.com, https://www.imo.im(its having skype option too) or http://java2script.org (click on below shown chat icons)
Note:
You will not be able to open orkut anyhow.
If you gmail chat is disabled, then after setting your firefox option as above said, you will be able to chat through gmail.
You can't open youtube too
Check the images below: (click to view larger size)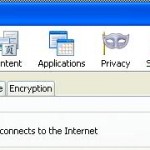 Let me how its works for you all? Happy Alien browsing !