Although Gmail introduced multiple Gmail account login somewhere around March 2010 but at the same time very few percentage of Gmail users have tried it or using it. I really liked Google's concept.
You can login to as many multiple accounts as you may have. I tried to login with my 6 account credentials and it allowed me to login at the same time.
Not sure about its maximum account login limit. But I guess, nobody would be having more than 5 accounts at Gmail. (Fake people may have. By the way I use it for experiment purposes. I am not a fake guy!)
Q: How you can enable/disable Multiple Sessions facility in my Gmail account?
A: People understand it easily if you write it in point-wise manner. So, here are the following steps:
1. Login to your Gmail account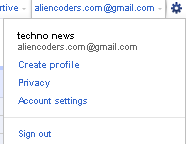 2. Click on your name/mail id shown at the right top corner. Then click on Account settings. Here is the link for those who didn't get my point.
https://www.google.com/accounts/
3. You will be able to see Account Overview of your account. Under Security Heading, you can see Multiple Sign-in option (Just below the Password option.)
4. You can see it will be either off(by default) or on(if you have changed the settings). To change this option click on edit link. Those who didn't get till here. They can go through this direct link.
https://www.google.com/accounts/MultipleSessions
5. Now you can click at "on" (On – Use multiple Google Accounts in the same web browser.)radio button and save it.
6. Now sign out and sign in again. You will be able to see switch account option under your email id link (top right corner).
7. Click on Switch account then click on sign into another account…
8. It will open another login window in new tab (Firefox). Just sign in with your another Gmail credentials. That's it!
9. Now you can view all mails of different account just by clicking on that email id under switch account link.
There are three kinds of people exist for this situation:
1. One who doesn't know about it at all
2. One who knows about it but never used it
3. One who knows and is using it
In which category you lie?