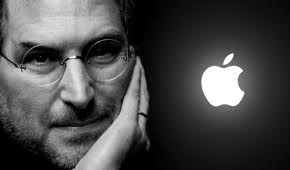 Have you ever been thrown out from your home or office or class? There is a person who was thrown out from his own company, once who was the CEO and founder of that company? If it would happen with us we would lose the control and would give up.
But this person started another company and that also reached at zenith within no time. And previous company was losing its charm. He was called back as CEO and again that company because the starrer in IT field whether it's O.S. or animation or mobile phones or tablets.
Yes , you guessed it right (I know I am exaggerating: P), he is none other than Steve Jobs who just died today (5th October, 2011 morning IST) at the age of 56 and caused a great loss to the world specially to our IT domain. He was the main person behind Mac, iPhone, iPod, iPad and many more things.
Those who don't know who was Steve Jobs (what seriously you don't know! That's bad), Steve Jobs was an American computer entrepreneur ,inventor, mentor, graphics evangelist. He is the person behind all innovative work behind Apple (non-edible). He was one of the founding member and CEO of Apple Inc. He was the CEO of Pixar Animation studios until its acquisition by Walt Disney Company. But, after that he became the member of the board of the directors of Disney in 2006. He was known for his movie Toy Story too!. He was the executive producer of that movie.
Steven Paul Jobs (Yes it's him only, Steve Jobs) was born on 24th February 1955 and died on 5th October, 2011. He founded Apple with his some team mates in 1970s and served as CEO of that company till 1986 when he resigned from that company due to some disputes with the board of the directors members. But in his absence the company's stock went down to 68 percent, pushing Apple to the stage of bankruptcy.
Later he found NeXT computers which was used by Tim burners lee and became the first server of www. Later in 1996 Apple bought NeXT and again he became the CEO of Apple, what an entry Steve; Well Done!!!
In 1986 only he acquired the computer graphics division of Lucas Film ltd and names as Pixar Animation Studios. Wall-e, Toy story series, Finding the Nemo, The incredible, Cars series, Ratatouille are few hit movies under Pixar banner.
Jobs is listed as either primary inventor or co-inventor in 338 US patents or patent applications related to a range of technologies from actual computer and portable devices to user interfaces ,speakers, keyboards, power adapters etc. Thanks Steve for showing us mouse, graphics user Interface multimedia etc , otherwise we would be dangling with command interface till date . 😉
I must say products under Apple's banner (or rather say under your supervision) are too good to applaud. Be its iPhone, iPod or iPad you became the trendsetter time to time. I saw all movies under your Pixar banner. Thanks to you for finding Pixar, else I would never see animated movies with much interest. Wall-e was damn technical Steve and Toy Story was out of my imagination (I am not comparing, I can't at all) 😀
Honors listed in Wikipedia:
He was awarded the National Medal of Technology by President Ronald Reagan in 1984 with Steve Wozniak (among the first people to ever receive the honor), and a Jefferson Award for Public Service in the category "Greatest Public Service by an Individual 35 Years or Under" (a.k.a. the Samuel S. Beard Award) in 1987.
On November 27, 2007, Jobs was named the most powerful person in business by Fortune Magazine.
On December 5, 2007, California Governor Arnold Schwarzenegger and First Lady Maria Shriver inducted Jobs into the California Hall of Fame, located at The California Museum for History, Women and the Arts.
In August 2009, Jobs was selected as the most admired entrepreneur among teenagers in a survey by Junior Achievement.
On November 5, 2009, Jobs was named the CEO of the decade by Fortune Magazine.
In September 2011, Jobs was ranked No.17 on Forbes: The World's Most Powerful People.
In December 2010, the Financial Times named Jobs its person of the year for 2010, ending its essay by stating, "In his autobiography, John Sculley, the former PepsiCo executive who once ran Apple, said this of the ambitions of the man he had pushed out: 'Apple was supposed to become a wonderful consumer products company. This was a lunatic plan. High-tech could not be designed and sold as a consumer product.' How wrong can you be".
His Contribution to Apple Inc. from wired.com
He and his friend launched Apple in 1976. Their first project, the Apple I, was just an assembled circuit board. Anyone who bought it had to add the case and keyboard. But it was enough for Jobs to convince Mike Markkula, a semi-retired Intel engineer and product marketing manager, that personal computing was the future. Markkula invested $250,000 in the fledgling enterprise.
The Apple I begat the Apple II in 1977. It was the first successful mass-market computer, and easy to use, too. That would become a hallmark of Apple under Jobs.
The Apple II had a huge impact on the tech business, but cheaper alternatives, like the Commodore 64 and the VIC-20, quickly eroded Apple's market share. IBM's open PC platform eventually won out over Apple's closed approach, and the die was cast. The PC dominated the market.
Still, Apple was by any measure a success. By the time Jobs was 25 in 1980, he was worth more than $100 million. Not that it mattered to him.
"It wasn't that important because I never did it for the money," he once said.
Apple once again shook up the industry with the Macintosh, announced in 1984 with a now-iconic Super Bowl ad challenging IBM. The Mac was a revolutionary step forward for personal computing — the first mass market computer to use a mouse-driven, user-friendly graphical interface. It was influenced by-critics would argue lifted from — technology Jobs saw a few years earlier at the Xerox Palo Alto Research Center. It irreversibly changed how we interact with computers.
But then Jobs fell from grace. One year after the Mac's introduction, Jobs was fired in a power struggle with CEO John Sculley. Jobs was devastated. He felt he'd let those who came before him – pioneers like David Packard and Bob Noyce – down, and he wanted to apologize.
"It was a very public failure, and I even thought about running away from the Valley," he admitted in a 2005 speech.
Apple's incredible string of hits started with the iMac and continued with iTunes and the iPod in 2001, the iPhone in 2007 and 2010's iPad. There were some misses along the way – Mobile Me and Apple TV –made Apple one of the biggest companies in the world.