Want to see your organization or your picture in System information in System Properties window below to the windows logo? Follow the following easy steps to see your logo there.
Step 1:
Create OEMINFO.INI file with content:
[General]
Manufacturer = "GENUINE SYSTEMS"
[support Information]
line1 = Varghees Samraj
line2 = Computer Sciences Corporations
line3 = Chennai
line4 = Tamil Nadu
line5 = India
line6 = 600032
Step 2:

Create another logo file 103×102 size bmp file and save it as OEMLOGO.BMP.
Step 3:
Copy those two files OEMINFO.INI and OEMLOGO.BMP in C:\WINDOWS\system32\
Step 4:
Check your System Properties now.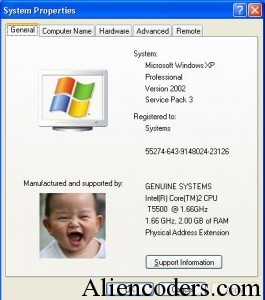 Enjoy!!!