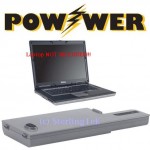 Maximize Laptop Battery Life:
1. Dim your screen
2. Close unnecessary background program such as ITunes, AvaFind, Google search etc
3. Cut down external devices such as USB devicces
4. Run off a hard drive rather than CD/DVD
5. Use Hibernate not standby
6. Exercise the Battery: Do not leave a charged battery dormant for long periods of time. Once charged, you should use the battery at least once every two to three weeks.
7. Ensure the battery contacts are clean: clean the metal battery contact points with some soft cloth and alcohol?
8. No Multitasking: Try to reduce the work load of the system when on battery
9. Fully charging/discharging
10. Use screen savers 'Blank'
11. Turn off bluetooth and wireless devices
12. Install more memory/RAM to make your hard drive not too often spinning
13. Reduce temperatue: If you have your laptop on your lap and it is burning you, you are shorting the battery life and charge-cycle capability because you have interfered with its cooling system.
14. Make sure your battery and charger match and you have a quality charger, since even small differences in output voltage of the charger can have dramatic impact on the lifespan of your battery.