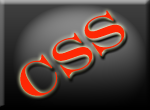 Minimal Introduction About CSS 😉 CSS means Cascaded Style Sheet which is a style sheet language used to describe the layout (look and feel) of a document in Markup Language. CSS is designed primarily to enable the separation of document content (written in HTML or a similar markup language) from document presentation, including elements such as the layout, colors, and fonts.
This separation can improve content accessibility, provide more flexibility and control in the specification of presentation characteristics, enable multiple pages to share common formatting, and reduce complexity and repetition in the structural content (such as by allowing for tableless web design).
CSS can also allow the same markup page to be presented in different styles for different rendering methods, such as on-screen, in print, by voice (when read out by a speech-based browser or screen reader) and on Braille-based, tactile devices. While the author of a document typically links that document to a CSS style sheet, readers can use a different style sheet, perhaps one on their own computer, to override the one the author has specified.
CSS specifies a priority scheme to determine which style rules apply if more than one rule matches against a particular element. In this so-called cascade, priorities or weights are calculated and assigned to rules, so that the results are predictable. The CSS specifications are maintained by the World Wide Web Consortium (W3C).
Internet media type (MIME type) text/css is registered for use with CSS by RFC 2318 (March 1998). Its has gone through different version till date. Its lates version is CSS 3 which has been under development since December 15, 2005. The minimal topic that one should know to use CSS 3 are written in structured way here and from the next post, we will try to explain all topics one by one.
1. External, Internal, Inline
2. Syntax h1{color:#FFFFFF;} or selector {property:value}
3. ID vs Class
4. Styling
i. Color ii. Letter-spacing iii. Word-spacing iv. Text-align (left, center, justify, right) v. Text-indent vi. Text-transform (uppercase, lowercase, capitalize) vii. Text-decoration (none, overline, line-through, underline, blink) viii. Line-height
i. Font-family ii. Font-style (normal, italic, oblique) iii. Font-size iv. Font-weight v. Font-variant (normal, small-caps)
i. List-style 1. List-style-image 2. List-style-type (circle, square, alpha, roman, latin, decimal-leading-zero) 3. List-style-position (inside, outside)
i. a:link ii. a:visited iii. a:hover iv. a:active
Background (color, image, position, attachment (scroll, fixed),repeat)
i. Background-color:#colorcode ii. Background-image: url('path of image') iii. Background-position:left top/left center/left bottom/x pos y pos iv. Background-attachment:scroll/fixed/inherit v. Background-repeat: repeat/repeat-x/repeat-y/none 5. Box Properties
Model
Border
Margin
Padding
Outline
6. Dimension
Height
Width
Max-height
Min-width
7. Visibility and display
Visibility:hidden collapse(useful for table. Works in IE if !doctype is defined)
Display: block or inline or none
8. Positioning
Fixed (fixed position is positioned relative to the browser window)
Relative (relative positioned element is positioned relative to its normal position.)
Absolute (An absolute position element is positioned relative to the first parent element that has a position other than static. If no such element is found, the containing block is <html>)
Static (default)
Z-index
9. Float and clear
Float (left, right, none, inherit)
Clear (left, right, both, none, inherit)
10. Pseudo class
:focus (ex: input:focus { color:green;})
:first-child (ex: p:first-child{color:blue;})
11. Pseudo elements
:after
:before
:first-letter
:first-line
12. Opactiy (css3)
Opacity: 0-1 (FF)
filter:alpha(opacity=x). (for IE x=0-100)
Follow this link for CSS examples