Every time when you wish to chat with your friends and foes, you have to open separate chat software for that like msn, skype, yahoo, gtalk and so on. Why not to use only one software for all these stuffs.
Then I saw one site called meebo.com (its really a cool one, web based chat site). It allows you to login with your yahoo or gmail or skype etc ids. But if you are looking for a software that will provide you such facilities , then pidgin is there.
Pidgin (formerly named Gaim) is a multi-platform instant messaging client, based on a library named libpurple.
Libpurple has support for many commonly used instant messaging protocols, allowing the user to log into various different services from one application. libpurple is intended to be the core of an IM program. When using libpurple, you'll basically be writing a UI for this core chunk of code. Pidgin is a GTK+ frontend to libpurple, and Adium (like pidgin but for Mac OS X) is a Cocoa frontend. Whatever be your chat program, whatever language you use, if you are going to connect with network, user dialogue box, user authentication in fancy manner; you have to use libpurple. It is being used by pidgin, meebo, EQO(for mobile users), Adium etc.
It's an open source software and written in C and its plugins are written in C#, Python, Perl etc. Its file Size is 14.10 MB and latest Version is 2.6.6 Pidgin supports following chat networks: AIM, ICQ, Google Talk, Jabber/XMPP, MSN Messenger, Yahoo!, Bonjour, Gadu-Gadu, IRC, Novell GroupWise Messenger, QQ, Lotus Sametime, SILC, SIMPLE, MXit, MySpaceIM, and Zephyr. It can support many more with plugins.
It Supports many international and lots of regional languages too like Kannada, Gujarati , Telugu, Punjabi, Marathi and Hindi (of course). It supports almost all popular languages over the world. Whatever be your OS you can use it (Windows and Linux is common).
It became very popular after 2007 and today millions of people use it worldwide. It supports all famous chat networks like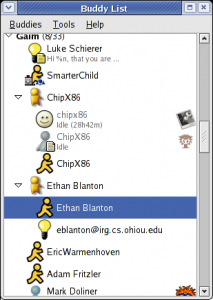 Bonjour
Gadu-Gadu
Google Talk
Groupwise
ICQ
IRC
MSN
MXit
MySpaceIM
QQ
SILC
SIMPLE
Sametime
XMPP
Yahoo!
AIM
Zephyr
Now Facebook chat also being supported through XMPP network.
But I found only one demerit in it, that is why I use it rarely. If you are logged in with your yahoo account , next time if you will login with your gmail account, it will show you your yahoo and gmail friend list together (imagine in case of yahoo, gmail, msn, aol: how long list you will be having). One more thing is that, if you are using it alone then its ok. If your friends also gets logged in through the same software then he/she will be able to see your whole friend list also (Isn't it bad?). I hope in next version they will do something to this issue.