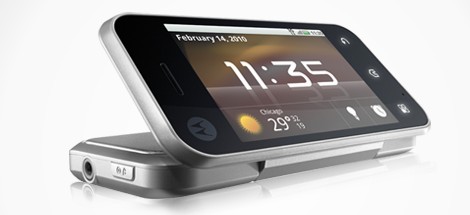 Days are gone when you need to spend more than 20k INR to have a fully featured smartphone with Android O.S. Motorola hits the market with few best mobile handsets in medium range too. I would rather say it saves Motorola market in India. Motorola Milestone, Motorola Defy and Motorola backflip are to name a few (charm, quench etc are also there in the market).
Yesterday one of my friend Ritesh Kamal bought Motorola backflip. After seeing its sleek design and features and I became a good fan of Motorola too (this time Motorola attracted me rather than Nokia or Sony Ericson). It has very sexy look, easy to handle, 3 way navigation system, Android O.S. v2.1 and can be upgraded to v2.2
The Motorola Backflip is a Touchscreen Android mobile phone with Reverse flip keyboard and Rear directional touch-pad.The reverse flip design puts the Motorola Backflip in table top mode and transforms it into a hands-free video player,Music player,Digital picture frame or alarm clock.
It also features MOTOBLUR that lets you stream your emails and social networks into one feed. And with a secure server as a backup, you'll never really lose it. Bad news for Indian customer is that Motoblur is not there in Indian Motorola backfliip handset. (But I didn't find any difficulties even without that.)

Its costs 14,255 INR and trust me its worthy for that. I liked few features in it which are: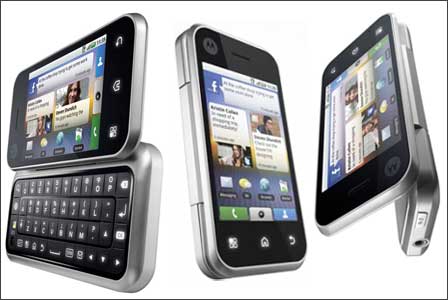 Pros
Rear backtrack pad is Motorola's patent technology. It gives feel like you are using mini laptop
You can use the same 5 MP camera with autofocus and led flash, for front and rear purpose. It means while 3G Video calling , it will use 5 MP camera which is really amazing. Isn't it?
Its finishing , Reverse QWERTY keypad (Scratch Resistant) makes it very sexy handset to keep it in your hand
Its having capacitive touchscreen.
It is using 5 desktop modes, which means you can use 5 different themes with different applications at the same time.
Its 3D navigation of Images and slideshow feature makes to feel like I am using Apple's product
You can keep it over table and can watch videos/movies just like you are watching in your system.
You can record video at 24fps of QVGA quality which is again a good thing at this price.
It has loudspeakers and 3.5 mm jack too for music lovers like my friend.
Google map, GoogleTalk, Facebook applications are already there.
Many other attractive & impressive applications exist in this handset. We need to explore more and then revert back again to you.
Cons
When you use earphone, its sound quality is not so good as compared to Sony but who cares. Noting is perfect in this world!
Radio is not there. Again, I don't care, because rarely I use this feature.
Motoblur is Motorola's new technique to make smooth effect to UI navigation which is missing in Indian Version. (It should be in Indian version too)
It's a real good competitor for HTC wildfire, Xperia X10 Mini pro, Nokia N97 Mini, Nokia C6, Samasung Wave and many more handsets.
Hardware Specifications
Network GSM 850 MHz / 900 MHz / 1800 MHz / 1900 MHz
UMTS UMTS 850 MHz / UMTS 1900 MHz / UMTS 2100 MHz
Data Network EDGE / UMTS / HSDPA 7.2 Mbit/s / HSUPA
3G Network a big Yessssssssssss
Smartphone ofcourse Yes
Operating System Android OS (2.1 upgradable upto 2.2)
Processor Qualcomm MSM7201A, 528 MHz
RAM 256 MB
ROM 512 MB
Internal Memory 256 MB
Weight 4.69 oz / 133 g
Dimension 4.25″ x 2.09″ x 0.6″
10.8 cm x 5.31 cm x 1.52 cm
Internal Display Screen 3.1-inch 262K Color TFT LCD Touch screen (320 x 480 pixels), little smaller huh
Touchscreen Yes
Sensor Yes. Accelerometer Sensor
External Display Screen No
Battery Type Lithium Ion 1380 mAh
Battery Life Talk: 6 hours continuosly
Standby: 315 hours (13 days approx.)
QWERTY Keyboard Yes. 20-key QWERTY Keyboard, super sleek design. You are gonna love it, when you will start using it.
Predictive Text Input Yes. T9
Speakerphone Yes
Expandable Memory Slot Yes. microSD / microSDHC. Supports Up to 32GB
GPS System / GPS Navigation Yes. A-GPS. Supports LBS
Email, Messaging, and Office Functionalities
Email Yes. Supports POP3 / IMAP4 / SMTP
SMS Yes
EMS Yes
MMS Yes
Internet Browsing / WAP Yes. Full Internet Browser
Instant Messenger Yes
Microsoft Office Mobile No
Software and Games
Games Yes
JAVA Yes, Downloadable
Alarm, Calendar, Calculator, TO-DO, Notes and many more
Phone Book
Multiple Numbers Per Contact Yes
Picture ID Yes
Ring ID Yes
Digital Camera
Mega Pixel 5.0
Zoom Yes (4x only)
Autofocus Yes
White Balance Controls Yes
Geo-targetting Yes
Music and Audio
MP3 Music Player Yes. Supports AAC, AAC+, AMR, eAAC+, MP3, WAV Music Files.
Playlist Yes
Shuffle Yes
Voice Memo & Voice Mail Yes
Video and Camcorder
Video Player Yes. Supports 3GP, H.263, H.264, MPEG4 Video Files.
Video Recorder Yes. Records at QVGA (320 x 240) resolution, 24 fps (Frames Per Second)
Streaming Video Yes
Connectivity
Bluetooth Yes
Bluetooth Stereo Headset (A2DP) Yes
Infrared No
Wi-Fi (WLAN) Yes. Supports 802.11b / 802.11g / 802.11i
USB Yes. microUSB 2.0
HeadSet Jack (3.5mm) Yes
Computer Synchronization Yes