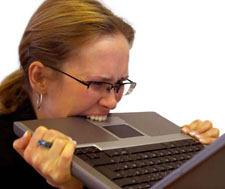 In most of the colleges or IT industries, you will observe that many sites will be blocked or even you will not be able to hat through online messenger. People use to open orkut, facebook, youtube but they will not be able to open it due to proxy enabled firewall in hat organization. I also got annoyed with such things and one day go to know, how to surpass all these barriers.
Why to use or test any proxy site to open such sites when there is a small application for it which does its job at its best. Yes! ultrasurf is there to solve your problem. (You can smile :)). More than 70% organizations usually ban Social networking sites. Few companies allow with some term and conditions. Sometimes its good to not having access to such sites, else it may harm work culture and productivity. But it may be used for refreshment and kind of updates about friends, families, about other companies, sites etc.
For example: I wish to see updated news of few companies or sensex through twitter, then how i will be able to see it if they will block twitter at office?
Its daily traffic is over 8000 GB and daily hits would be near around 800 million
Its free to use
Latest version is 9.97
Its so light, size is 500 Kb approx.
You just need to download it and double click on it whenever you wish to use automatic enabled proxy server to bypass your organization's proxies.
It requires IE only and works on almost any O.S. version of windows (like XP,Vista, win 7)
Add-on for Firefox
Firefox users need to download the firefox add-on besides the above software: Download Firefox add-on(.zip) (md5: 6ce151b1b0ef8430031a8e9a69f38806)
Installation:
Unzip it, drag the wjbutton_en.xpi file to firefox window. Click the "Install" button in the pop-up window to install it. The UltraSurf icon will show at the right-bottom of the firefox window. Close all firefox windows and re-open firefox. A grey-out UltraSurf icon means UltraSurf is disabled. A bright colorful icon means UltraSurf is enabled. Click it to enable/disable it. To change the settings or uninstall it, go to "tools/add-ons" of firefox. Start UltraSurf program and enable the firefox add-on, your internet activities thru Firefox will be under UltraSurf's protection.
Automatic upgrade
When UltraSurf software releases a new version, you will see a pop-up window telling you to download the latest version when you open the UltraSurf home page. I hope you will like it. Comment is needed! Happy Alien Blogging