Review on an awesome electronic gadget: WD Live TV Hub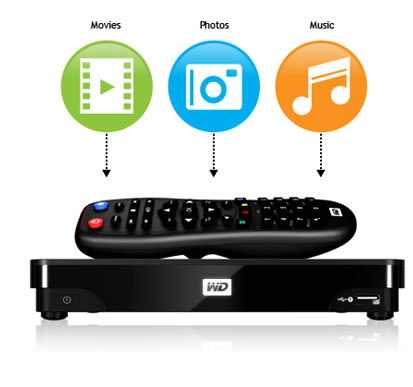 "Bring your digital life to high definition big screen or any old screen at your home".
This sounds interesting. Isn't it? Being from 21
st
century, where a 5 years old kid plays with mobile and computers, we need something unique apart from saving our bigger files for future use by using external hard disk.
I still remember when my friend bough computer, I simply asked what you will do with so much space (80 GB). Now 1 Terabyte (1 TB is equivalent to 1024 GB or simply say approx… 1000 GB) does not sufficient for future use. Whosoever is buying laptop, desktop etc. looking for 500 GB internal hard disk at least (purely my assumption).

Hard disk either internal or external is meant for data storage from a doc file (merely in a KB) to Blu-ray quality movie of 8 GB size approx… But If I need to watch movies, video songs, serials on bigger screen like 40 inch television or 5 feet white screen using projector. By that time using laptop or computer system will not be a better idea! (Of course we can do all these but there must some awesome way to do it.)
Even simple external hard disk can't suffice our needs, although it can store thousands of high quality movies in its 1 TB space but to access any of its file we need to connect it through our system anyway. How about an electronic gadget that:
Can be used to watch stored data directly at bigger screen like TV without using computer?
Can be used to surf internet on TV
Can be shared across other computer using LAN/WAN
Can be treated as multimedia player which can play any format even mkv,m2ts without any hassle
Yes, I know you can't read any more boring lines. Let come to the point. I bought an electronic device solve my problem of storing extra files into an external hard disk and the same device can be used to watch/access those files using a remote on TV or any bigger screen. Here comes, Western Digit's Live TV Hub which has lots of features that will compel to you have one in your home.
Features that I liked:
Easy to operate
1 TB or 2 TB storage capacity
Can access internet using LAN wire
One can access its data using a switch or by directly connecting through LAN wire
One can operate this device using smartphone app (available in android and iphone )
One can access it using LAN wire, through HDMI port, through old 3 pin socket (used in older TV)
Transfers/uploads files easily across the network
One can use usb keyboard to surf net on TV instead of laptop screen 😀
It support full HD video playback(1080p)
You can directly see video camera's content through this device
The player automatically synchronizes with watched folders so new content from any PC, Mac, or USB storage will be added to the WD TV Live Hub.
It supports usb v2.0, HDMI v1.4
It has 2 usb ports, one HDMI port, one optical audio output port, composite and component socket for TV and TFT monitors. (But I faced problem while accessign files using USB. I need to experiment more on it. )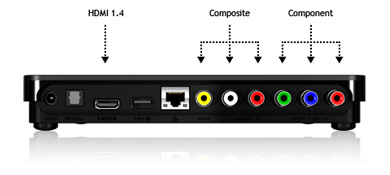 File Format supported:
Video– AVI (Xvid, AVC, MPEG1/2/4), MPG/MPEG, VOB, MKV (h.264, x.264, AVC, MPEG1/2/4, VC-1), TS/TP/M2T (MPEG1/2/4, AVC, VC-1), MP4/MOV (MPEG4, h.264), M2TS, WMV9, FLV (h.264)
Photo – JPEG, GIF, TIF/TIFF, BMP, PNG
Audio – MP3, WAV/PCM/LPCM, WMA, AAC, FLAC, MKA, AIF/AIFF, OGG, Dolby Digital, DTS
Playlist – PLS, M3U, WPL
Subtitle – SRT, ASS, SSA, SUB, SMI
Note: It doesn't support amazon store, iTunes store
It supports many languages like English, French, Dutch, Korean, Russian etc.
It costs around $180 (9000 INR approx. ) It may vary at present.
My Rating 4.5 out of 5