There is the general  SEO rule for readability of your article is that when writing for a general audience; you should aim for an 8th grade reading level. This will not only help your article to get out to people who are less educated, it can reach customers who are learning English as a second language.  And, in general, it can help you stick to simple sentences that are clearer and more easily understood at a glance.
But how do you know if your article is easy to read and understand to 8th grades? There is a technique called Flesch Reading Ease scoring system. If you score above 60 means you are good to go in readability part.
The specific mathematical formula is:
RE = 206.835 – (1.015 x ASL) – (84.6 x ASW)
RE = Readability Ease
ASL = Average Sentence Length (i.e., the number of words divided by the number of sentences)
ASW = Average number of syllables per word (i.e., the number of syllables divided by the number of words)
The output, i.e., RE is a number ranging from 0 to 100. The higher the number, the easier the text is to read.
Scores between 90.0 and 100.0 are considered easily understandable by an average 5th grader.
Scores between 60.0 and 70.0 are considered easily understood by 8th and 9th graders.
Scores between 0.0 and 30.0 are considered easily understood by college graduates.
The following table is also helpful to assess the ease of readability in a document:
90-100 : Very Easy
80-89 : Easy
70-79 : Fairly Easy
60-69 : Standard
50-59 : Fairly Difficult
30-49 : Difficult
0-29 : Very Confusing
Microsoft Word 2010 and Outlook 2010 introduce a little known feature called Readability.
How to enable Readability Ease tool in MS Word
Go to File->Options

Click on Proofing tab and then check 'Show readability statistics' and then click ok.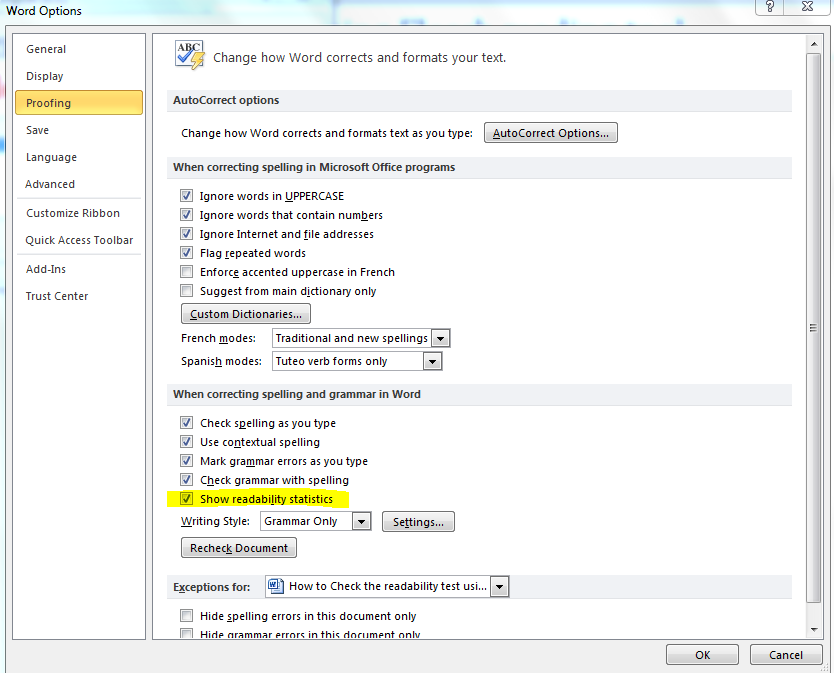 Once you have finished your article. Press F7 to open Spelling check and proof reading option.
Or Click on "Spelling & Grammar" button as shown below:
Clicking on Options is another way to enable "Readability stats"
You will get over article stats once you are done with proofreading 🙂

I got 64.3 score under Readability as Flesch Reading Ease. How about yours?
How to enable Flesch Reading Ease Tool in MS Outlook
It is almost similar to MS Word. Only to enable the option could be at different place.
Click on File->Options

Click on Mail tab and click on Spelling and Autocorrect button shown in right side with yellow mark.

Click on checkbox near "Show readability statistics" and rest is same as MS Word.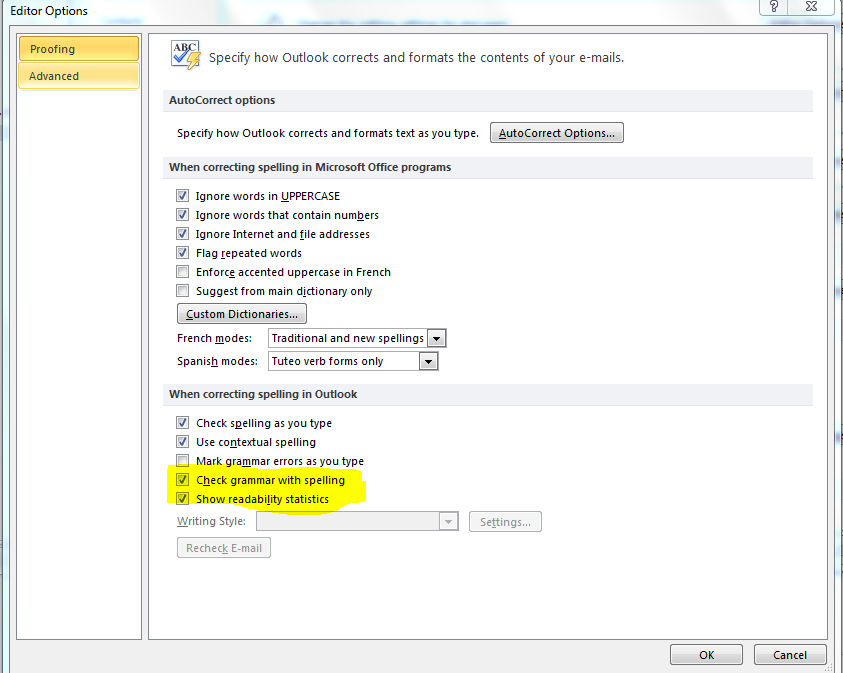 Please note, you must check at least 'Mark grammar errors as you type' or 'Check grammer with spelling' to enable 'Show readability statistics'.
You should check your Flesch Reading Ease score before sending any mail or posting any article 🙂
Hope "Flesch Reading Ease score" system will help bloggers, technical writers and to everyone who use MS Word or Outlook.
In case you want to check readability score online, check this site: https://readability-score.com/
Bonus for WordPress bloggers: There is WordPress plugin for bloggers is known as Yoast SEO. Explore that out.
Please share your feedback regarding this option and the "Flesch Reading Ease score" system.