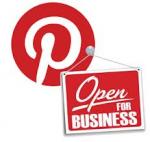 Pinterest is a newcomer in the social media industry and has already become popular fancying millions of visitors. Since its launch in 2010, Pinterest has attained great heights and has evolved into the third largest social media network in the United States. Comscore.com states that "Pinterest buyers spend more money frequently than any other social sites and based on Hitwise data, Pinterest drives more referral traffic to its customers when compared to sites like Google+, YouTube and LinkedIn.

These information make clear that consumer brands take great advantage out of this prosperous social site. Social media network analysts state that Pinterest is an effective tool for B2B experts. The marketing trend of today is more of interaction and nobody pays attention to faceless brands. So, if you are a B2B expert who likes to advertise personalized or customized services to business owners, retailers and wholesalers, Pinterest is best suggested. This visual sharing site with simple pictures does impact a considerable amount of traffic. The strategy here is to carefully build a B2B marketing plan which perfectly fits your business, product and service.

Pinterest is no more a restricted site, it is wide open for all and make the best use of it by following the below mentioned tips:

Customize Pinterest profile
As soon as you sign up with Pinterest, the primary thing that requires attention is the Pinterest profile. This is going to act as the index of your business mind; hence, the profile has to be crisp with interesting details. The "about" box in the profile has to be filled with a short and snappy description about your company. This description is what appears on the SERPs when a search is made for your page. Fill the profile with a sophisticated company image and make sure it matches with the profile in other social networking sites. Profile settings enable you to connect Pinterest with social media sites like Facebook and Twitter.

Pin images of corporate functions
You can find that B2C companies pin their product price and attract new customers within seconds. Whereas, with B2B it does not work that way, the approach has to be entirely different. You can create a pinboard which has the trade fairs, events that your company participated and others along with the images. If you have loads of information to share about the event you can start a separate pinboard for each event. Photos which portray your engagement with clients, delegates, banners, speech and anything that happened in an event can be pinned.

Pin Photos of company officials
Pinning photos of your employees in a separate Pinboard creates a good impact in the customers mind. Testimonials from colleagues or a brief description of an employee can also be pinned on the board. These can in turn be linked with their respective LinkedIn profile which depicts that your company is legitimate. The culture of your company and dress code can also be mentioned if you like to.

Generate new visual contents
Social networking sites are becoming increasingly popular and the visual content is paid much attention. It is essential to pin fresh contents to impress a customer. If you have pictures of the old building of your company, pin them and win the hearts of hundreds of followers. Once you have sufficient followers it is vital to sustain them and also prompt them to build their business relationship with the company. Creativity plays an important role to compete in Pinterest. You can enhance your B2B profile by posting videos, infographics and e-books.

Monitor Traffic
To become increasingly popular in Pinterest perform a complete research and find the areas of interest. Look for websites that draw leading number of conversations and analyze what they do different. Now, analyze your traffic and site so that you can work on the areas that you need to improve. You can easily find out what customers expect from you.
Pinterest has a special place in B2B marketing and potential with creativity can do wonders for your business. Get inspired by looking at the company profiles of giant companies and get geared. If you are already using Pinterest, implement these steps and draw more from it.
This is a guest post is brought to you by Samantha Kirk, a writer for Centurylink Internet. Samantha provides up to date content and information for high-speed internet, phone services, bundles and other Centurylink offers.
Image Source: http://www.techcrunch.com