I have attended many meetups in past but all were related to blogging, InfoSec, Technical meets. This was the first time for me to attend any Mobile Launch related meetup held at ITC Kakatiya, Hyderabad by Asus #ZenMeetup. Thanks to Shubham for sharing the information of this event and special thanks to RippleLinks for providing a common platform to have better networking with other bloggers.
How Zen Meetup started
Well, I reached at the venue 10 minutes before the scheduled time i.e. 7 p.m. of 14th August, 2015. Went to downstairs near to HyderMahal where some other bloggers were already roaming. We were treated by welcome drink and then had to show our presence by signing in a register handled by Payal and Deepak (for bloggers). We were given one booklet where all Zenfone products and accessories are being shown with detailed features.
I met with two young bloggers who came all along from Warangal just to attend #ZenMeetup, Saif and Sharad. Then, around 7:30 p.m. we were allowed to enter to the conference room where it was about to start the launch of Asus Zenfones (Finally, they came to Hyderabad 😀 ). Hall was full with techie audience.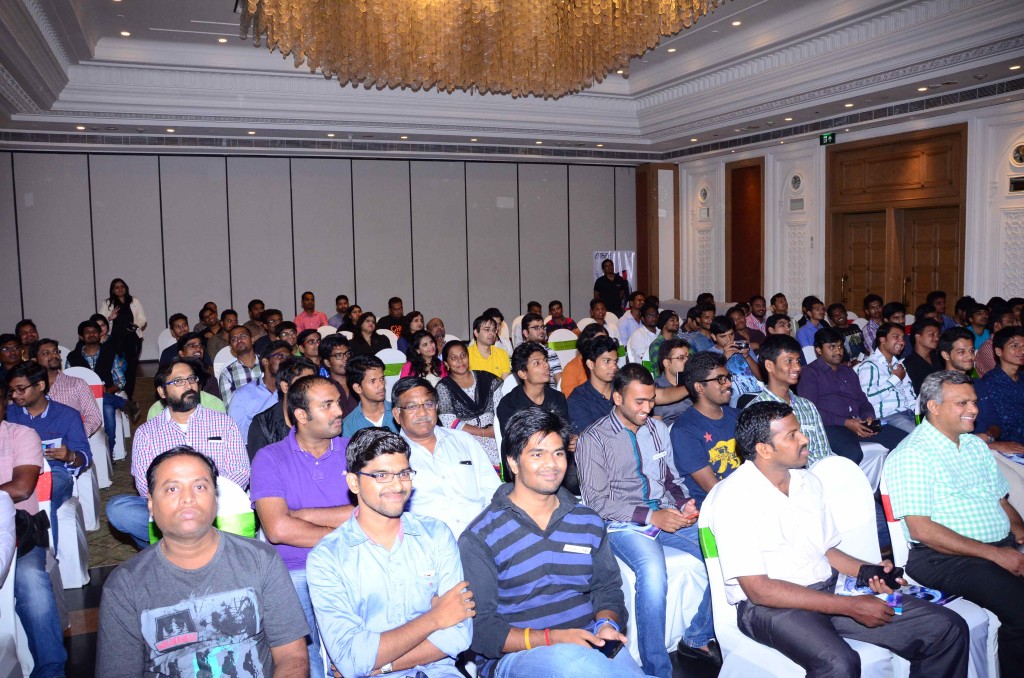 Let's listen Peter Chang (Impressive views and good sense of humor)
After finishing the introductory parts with slides, videos and greetings (Hi, Hello from the anchor and Aadab as well from the audience side.). Peter Chang started sharing about the products, its features and how it is unique, better and different from other mobile phones.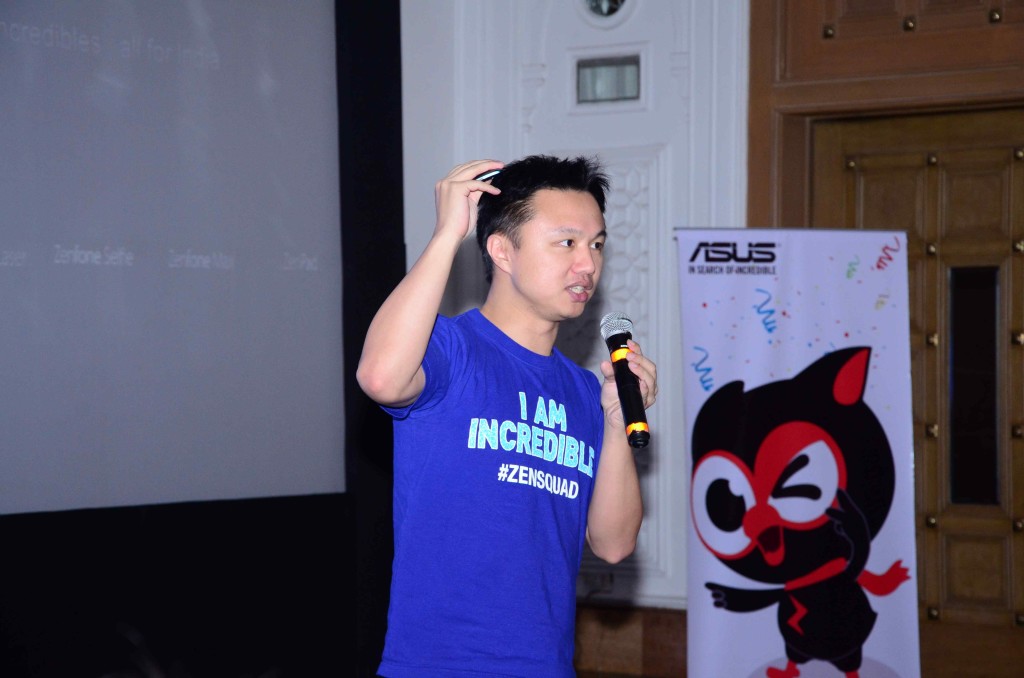 I think in last 10 months Zen Meetup news, products, offers are floating everywhere in Social Media, especially in FB and Twitter. Even I have twitted few while attending this meet and listening to the very young and talented person none other than Peter Chang (Managing Director, Asus India). I must say he has very good sense of humor and one needs hell lots of energy to keep smiling constantly from the beginning till end of the meet. Even I took one selfie with this young chap. Even other people from ASUS were very energetic and active all the time. I liked the anchor as well. (Can someone remind me her name, please? , I forgot to take selfie with her though 😛)
Products Shown during the #ZenMeetup
ZenFone 2 Deluxe: See the crystal miracle
ZenFone 2 Deluxe (ZE551ML) delivers powerful all-round performance and beauty in abundance, with a gorgeous new multifaceted polygonal finish accentuating the signature ZenFone 2 Ergonomic Arc design. It costs 22999 INR and available at flipkart.
ZenFone 2 Deluxe features
a 5.5-inch Full HD IPS display,
13MP/5MP PixelMaster cameras,
2.3GHz 64-bit Intel® Atom™ processor with 4GB RAM and
4G/LTE connectivity.
ZenFone 2 Deluxe also features ASUS BoostMaster fast-charge technology for 60% capacity in just 39 minutes. Isn't it amazing! Also,ZenFone 2 Deluxe includes the latest ASUS ZenUI — the world's first fully-customizable mobile interface — and Trend Micro™ security software for safe web browsing.
ZenFone 2 Laser: See at the speed of light
ZenFone 2 Laser models all benefit from a powerful 13MP PixelMaster camera with an f/2.0 wide-aperture lens to capture stunning, high-resolution photos with zero shutter lag — augmented by laser auto-focus technology that empowers users to capture perfect clarity in just 0.3 seconds.
It's available in 5-inch (ZE500KL), 5.5-inch (ZE550KL) and 6.0-inch (ZE601KL) (didn't find in flipkart as of now though) versions with up to 1920 x 1080-pixel Full HD resolution, ZenFone 2 Laser also incorporates the latest and toughest Corning Gorilla Glass 4. It boasts an up to octa-core 64-bit Qualcomm® Snapdragon™ processor with up to 3GB of fast memory for unwavering performance.
It was really impressive feature. I was amazed that even while walking it took very clear picture. Well Done Asus!
ZenFone Selfie: See the perfect you
ZenFoneSelfie (ZD551KL) is a trailblazing fusion of fashion, technology and craftsmanship that lets users see their perfect selves, with dual 13MP PixelMaster cameras, dual-color, dual-LED Real Tone flash both front and rear, plus laser auto-focus for ultra-fast shots with complete clarity.
ZenFoneSelfie's Ergonomic Arc design and intuitive rear key makes capturing selfies easier than ever, with live digital cosmetics to apply some magical glamor — all enjoyed instantly on the stunning 5.5-in Full HD display.
ZenFoneSelfie's exceptional front-facing PixelMaster camera has a huge 13MP resolution and an f/2.2-aperture, 88-degree wide-angle lens to capture more of every smile. The unique Selfie Panorama mode enables selfies with an outlook of up to 140 degrees, so everything and everyone becomes part of the shot.
ZenFoneSelfie's rear camera is just as advanced, with a large f/2.0 aperture lens for superior low-light shots. Both cameras are engineered with five-prism Largan lenses and top-quality Toshiba sensors, and include dual-LED Real Tone flash technology for perfect illumination in any lighting conditions. ZenFoneSelfie also delivers superb macro photography that works on subjects as close as 6cm, plus rear laser auto-focus to compose shots in the blink of an eye.
This product was shown to us with greater details and with so many satisfactory selfies. How they got this idea? This is simple but seriously amazing idea to get better selfie images. So this phone is dedicated to selfie lovers.
ASUS ZenPad7.0 (Z370) and ZenPad8.0 (Z380)
ASUS ZenPad features clean lines, embossed-leather patterning, and premium styling influenced by fashion accessories such as clutch bags and wallets for a luxurious appearance unique among mobile devices. Ergonomic rounded edges make ZenPad comfortable to hold and carry, and its polished metallic frame adds a bold visual accent.
ZenPad is the world's first tablet to feature an innovative interchangeable cover design that lets users easily customize their tablet with functional back covers. These can provide extra features and additional color options, while perfectly matching ZenPad's looks. Zen Clutch is a sophisticated carrying and protection solution for ZenPad; Zen Case lets users outfit ZenPad in their choice of five sleek or vivid colors and features a fine leather texture; and Audio Cover brings immersive 5.1-channel surround sound to a tablet for the first time. Power Case extends ZenPad's battery life, giving users up to 16 hours of usage to easily get them through their day or even the longest international flights.
ASUS ZenPad features the exclusive ASUS Visual Master suite of visual enhancement technologies — including ASUS Tru2Life and ASUS TruVivid — that brings advanced image-processing found on high-end TVs to a tablet for the first time and provides comprehensive visual optimization. ASUS Tru2Life analyzes each pixel in an image before it is displayed and performs an intelligent contrast and sharpness adjustments to boost dynamic range, revealing even the smallest details to ensure an incredibly realistic viewing experience. ASUS TruVivid improves screen clarity, brightness, and touch responsiveness by transforming the conventional six-layer display design into a two-layer, fully-laminated design that eliminates the air gap, resulting in higher optical transparency for brilliant color and improved brightness.
ZenPad is the world's first tablet to integrate DTS-HD Premium Sound, delivering the ultimate sound experience. DTS-HD Premium Sound transforms stereo audio into virtual surround sound so users can enjoy incredible, theater-quality audio right on ZenPad.
ZenPad is available with LTE/3G connectivity and phone functionality or as a Wi-Fi-only model.
Other phone accessories that was displayed was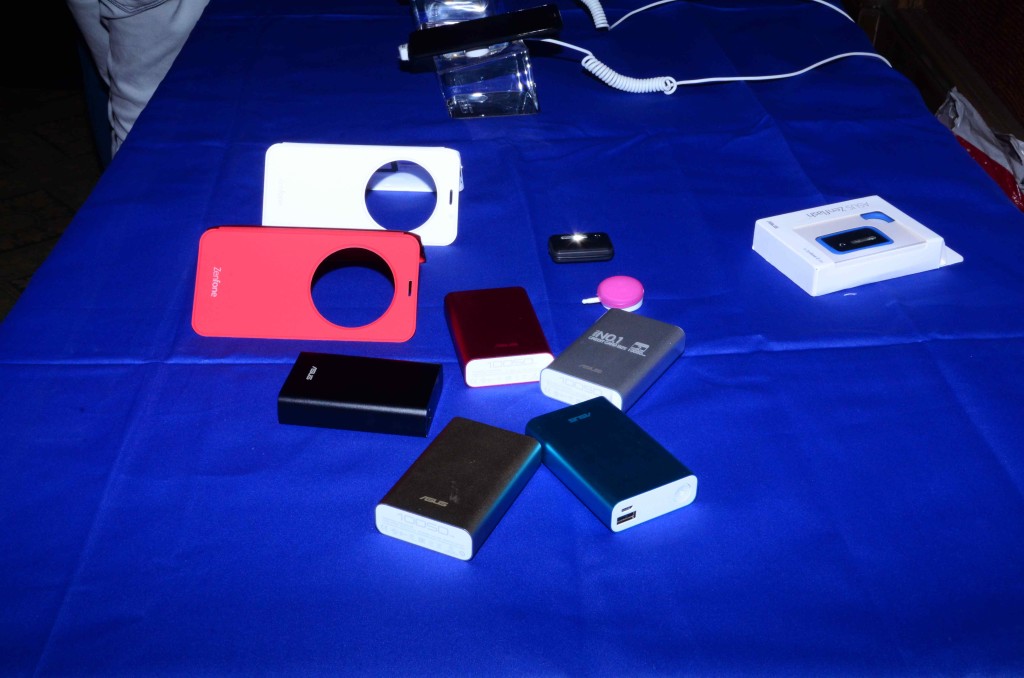 It's selfie time (boys are getting crazy)
We had few events and some prizes were also distributed. Out of those I remembered two events which were really entertaining and interesting. One was to come up with unique theme name for Selfie. There were for teams each of having 5 members. Khatta meetha (mixed feeling ) selfie,  Hyderabadi Zenfie etc. were name suggested for those selfies.
Other event that I liked most was admad event. Just imagine within 5 minutes how each of 4 teams came up with nice skit (script) and each of the team members did awesome acting! I liked the team who had to sell Zen accessories and the team who had to advertise Zenpad. They were seriously awesome and I personally laughed a lot. Good acting Folks. Here is the winner team
Demo Demo Demo (Let's grill Zen Techies)
After teach talks, phones, accessories were displayed for demo purpose. I got chance to drill some of the features that Peter and his team shown in meet. I must say some of its products and features are far better than many mobile companies and Image quality of Zenfone Deluxe was at par.
And here is the video captured by two Young gadgets freak bloggers Saif and Sharad, how ever I missed to record the demo of zenfones. Thanks to them, at least they did. Well done guys!
Can't forget the snacks (though it was dinner 😉 )
Well, it was around 9 and everyone was feeling hungry. So it was snacks cum dinner time 😛 Nothing to say more about it. It was well arranged and yummy food items. So just sharing one image of it.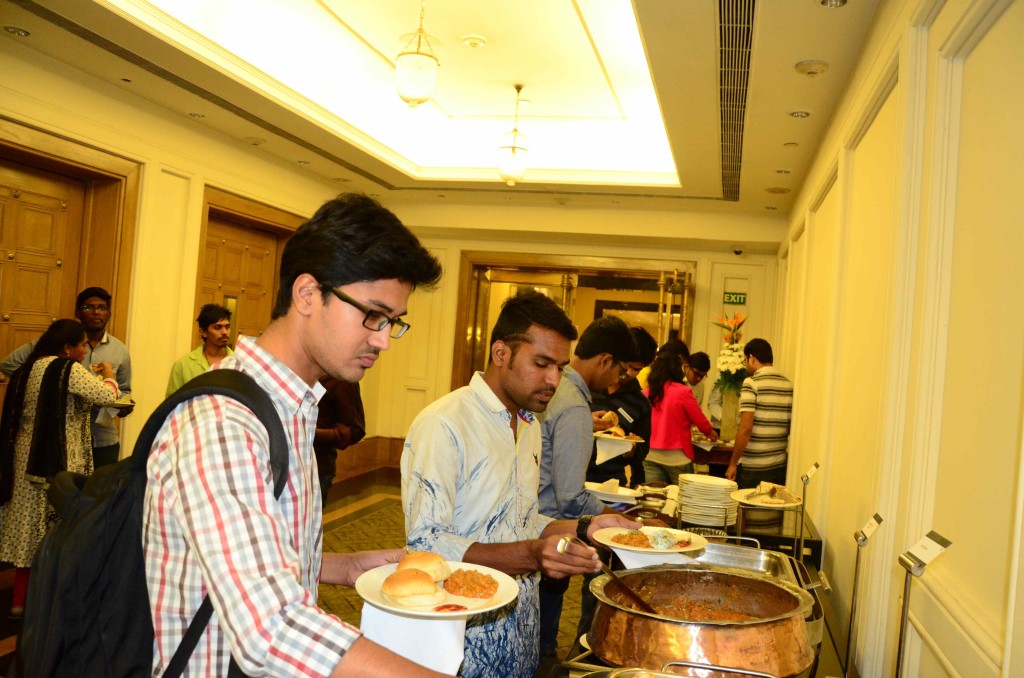 Final Note
It was overall nice experience and came to know about some good technologies behind super fast Zenfone series. Enjoyed the tech talk over 2 hours. Specially the event competition like admad, selfie theme etc. and can't deny the tasty food arrangement. Thanks to Asus, ITC Kakatiya, Payal, Deepak and Shubham
Here is the small introduction to the company, Asus

ASUS is a worldwide top-three consumer notebook vendor and maker of the world's best-selling, most award-winning motherboards. A leading enterprise in the new digital era, ASUS designs and manufactures products that perfectly meet the needs of today's digital home and office, with a broad portfolio that includes motherboards, graphics cards, optical drives, displays, desktop and all-in-one PCs, notebooks, netbooks, servers, multimedia devices, wireless solutions, networking devices, tablets, smartphones and wearables.
Driven by innovation and committed to quality, ASUS won 4,326 awards in 2014 and is widely credited with revolutionizing the PC industry with its Eee PC™. ASUS has more than 16,000 employees around the globe with a world-class R&D team of 5,200 engineers. Company revenue for 2014 was approximately US$14.5 billion.