Salient features of Samsung Galaxy Ace Duos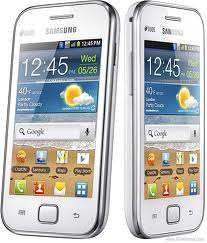 Being the most important smartphone manufacturer, Samsung is determined to hold this honorable position by offering a new product practically any month. The Samsung fans are never bored, and just when you think that Samsung made its best, another device appears on the market to prove they can do better.
This is why a new smartphone from Samsung is something common, and their launches of new products are…boring, not because the telephones are weak, but because it is something common. However, with the Samsung Galaxy Ace Duos, the South Korean manufacturer really managed to do something special.
1. Network and aspect
– GSM compatible
– Good design
– Small weight
Samsung Galaxy Ace Duos is compatible with the GSM network, having the same dimensions of other Samsung terminals, of 113x62x12. It has a weight of 122 grams, which is decent, considering the features of the phone.
2. Touchscreen
– great viewing experience
– TouchWiz UI
– 16 MB of colors
The capacitive touchscreen is something common for Samsung, and Samsung Galaxy Ace Duos confirms this affirmation. The 16 MB colors are perfect, and with a size of 320×480 pixels, and a diagonal of 3.5 inches, Ace Duos gives the expected navigating experience. The novelty is the TouchWiz UI feature that was recently introduced to the Galaxy series, a feature that was invented by Samsung with the purpose of challenging the Apple devices in terms of touch screen reliability.
3. Storage and processor
– 3 GB internal storage
– 512 MB RAM
– SD card compatible
Samsung Galaxy Ace Duos benefits of 3 GB storage with the possibility of enhancement with a 32 GB card, and with 512 MB RAM. You might consider those features average, even weak for a Samsung performing but Samsung Galaxy Ace Duos was released with the purpose of being an accessible phone from the Galaxy family, therefore what is lost with performances is compensated in terms of prices.
4. Connectivity
From the connectivity point of view, Samsung Galaxy Ace Duos comes with a micro USB connection with Wi-Fi, Bluetooth, EDGE and GPRS. It has the common communication features such as SMS, MMS, Email and it can play practically any common video and audio files.
5. Video features
– 5 MP camera
– Good resolution
– Secondary camera
The camera of Samsung Galaxy Ace Duos has 5 MP, with a maxim of 2592×1944 resolution, which is pretty decent. It comes with a geo-tagging and auto focus. Unfortunately, it does not have a secondary camera, but this is also because of costs reasons.
6. Operating system and battery
The phone works on Android OS 2.3 Gingerbread, but it can be upgraded to Android 4.0. The processor of 832 GHz is pretty decent, and you won't have problems with the accelerometer and compass. It also has Java and GPS support, which is good, considering the class of this device.
The standard Li-Ion battery allows up to 520 hours in stand by, and 6 hours of talking in 26 (16 hours in 3G).
Overall, Samsung Galaxy Ace Duos is not the "smartest" phone of the Galaxy series, but it is a device suited for people looking for average performances and a decent price. The latest Android games that consume many resources might not work so great on this device, but for the average user that is looking for a reliable phone and for decent internet navigation, it is more than enough.
Author's autobiography
Kady Babs is a HP Technical Certified and freelancer writer and at present attached with
Test 4 Prep
. This is Best Source for
HP Certification Exams
Preparation. You can try free demos and there is 100% Risk Free and Money Back Guaranteed. Babs has creative writing skills and helping people to get certified on first try.
Image Source: gsmarena.com