Search engine optimisation has changed, have you?
The search engines have gone through a lot of changes in the last 6 months which has completely shaken up the SEO industry. Even reputable companies that have always applied 'white hat' SEO practises are no longer safe and some big named sites were hit by Google penalties. So what's changed?
For many years there has been a debate about what is black hat SEO – the frowned upon way to optimise a website, and what is white hat SEO – the best practises approach.
Although Google always said that you were not allowed to create links in order to manipulate the search results and any links built purely for the purpose of improving rankings were considered as web spam and black hat, most people believed that black hat was manually created links and provided they created links manually, they were safe from a penalty. Google Penguin proved just how wrong that was.
How it used to be
Up until 6 months ago, Google would ignore poor links going to a site and would only take into account good links. If you had some poor links going to your site, Google's advice would be
not to worry about it
.
When building links, the best practises approach was always to put your keywords in the anchor text. This was because it made your links highly relevant to your keywords and therefore carried a significant amount of link juice. You are only able to manipulate anchor text though if you have built the links yourself. If people have naturally linked to your site, the chances are they would have used different anchors giving you huge anchor text diversity.
P
oor links now count against you
In an attempt to cut down on web spam, Google started to penalise sites with poor anchor text diversity by introducing Google Penguin. This was a huge moment in the SEO world as now low quality links have a negative effect on sites.
What is a low quality link?
Low quality links are any links that do not appear to be naturally built. Google believes that links should be naturally created by people writing good quality content and others sharing that content. Any links built purely for the purpose of link building are considered as web spam.
Google Penguin
Google Penguin is an algorithmic penalty that works like a filter and only runs once a month and penalises sites that have unnatural link profiles. An unnatural link profile is one that has low anchor text diversity for the reasons mentioned earlier.
Google Penguin caused a huge shack up in the SEO world and marked the change of how links are built. Post Google Penguin, poor quality links have a negative effect on a site and can significantly alter sites rankings.
The difficulty with Google Penguin though is that it opened the door to negative SEO. Some savvy competitors will deliberately launch a negative SEO attack on sites in an attempt to lower their link diversity and trigger a penalty. On the plus side though, savvy SEOs can remove unwanted content which is great for online reputation campaigns!
Google Panda
Google Panda was first introduced in early 2011 with regular updates being released. In the last 6 months Google has really been clamping down on over optimisation and have been penalising over optimised sites through Google Panda.
Panda targets sites with duplicate content and pages that have been stuffed with keywords. Duplication issues are more prevalent in ecommerce sites as often products are filed under several categories causing duplicate pages. Also people get lazy and copy manufacturer descriptions rather than writing their own.
Effects on SEO
As a result of Google penguin, anchor texts are now much longer and a lot more varied. Google Panda has caused web masters to be very careful about the content on their sites. In years gone by web master would stuff keywords into their sites in a deliberate attempt to manipulate the search engines. Now though web masters are doing the opposite and are actually de-optimising their site making sure they have very low anchor text diversity.
Google Disavow tool
To protect against negative SEO, Google launched a disavow link tool in early October 2012 where users can submit links from their link profile that they wish to be ignored. It is essentially a crowd sourcing tool whereby webmasters do a lot of the spam filtering on behalf of Google. The difficulty with this though is that a lot of SEOs don't know what they are doing and will simply disavow all of their links and start again. This is making Google believe that certain links are spam links when they are not.
Example
Imagine if you put together a really good link building campaign and saw some good movement in the search engine results pages but someone else built links to the same sites and didn't diversify their links and then got hit with Google Penguin and so reports these links to Google causing these links then get taken down. There is nothing wrong with the sites that link to these sites, only the 2
nd
person didn't know what they were doing.
Is this a useful tool or a recipe for disaster? I will let you make your own mind up…
How to protect against Google Penguin penalties
Protecting against Google penalties is simply a case of knowing your link profile. You should be running regular live link reports that detail your exact match e.g. keyword, and broad match anchors e.g. keyword with extra text, of all of your indexed links.
There are no exact figures that you should be looking for as every niche is different but if any of your keywords have anchor text diversities of 30% or higher, you should be looking to reduce them by building links with generic anchors. A natural link profile will have a high percentage of branded anchor text (your company's name) and a high level of naked URLs (www.yourdomain.com).

How to protect against Google Panda penalties
Protecting against Panda penalties should happen automatically if you have set up your website correctly. The important things to note are that your content is original and not copied and that you haven't stuffed it with keywords. If you have written it yourself, you will know whether it is original or not. If you buy content, make sure you check it is original by running it through Copyscape before buying it. Really your content should have keyword densities of lower than 2.5%.

Identifying penalties
If you get hit with a penalty, it is very important to understand which penalty you have been hit by so that they can formulate a plan on how to recover. Often people assume they have been hit by a certain penalty simply because their rankings have dropped and there is a lot of discussion about that particular penalty in the forums. Before taking any action, you need to understand what penalty you were hit by so that you are able to take action otherwise you are likely to make the situation worse rather than better.

Google algorithm change history
SEOmoz have a page on their site that details all of the algorithm changes and the date at which they happened. This is a good place to start if your site suddenly tanks in the search engine result pages (SERPs) to see if there has been any algorithm changes recently. If there hasn't, look at your website files to see if your site has been hacked and if you are hosting files that you shouldn't be. Make sure you change the settings so that you can see hidden files!
If there have been algorithm changes at a similar time to when your website dropped in the SERPs then the next step is to understand what penalty you have been hit by.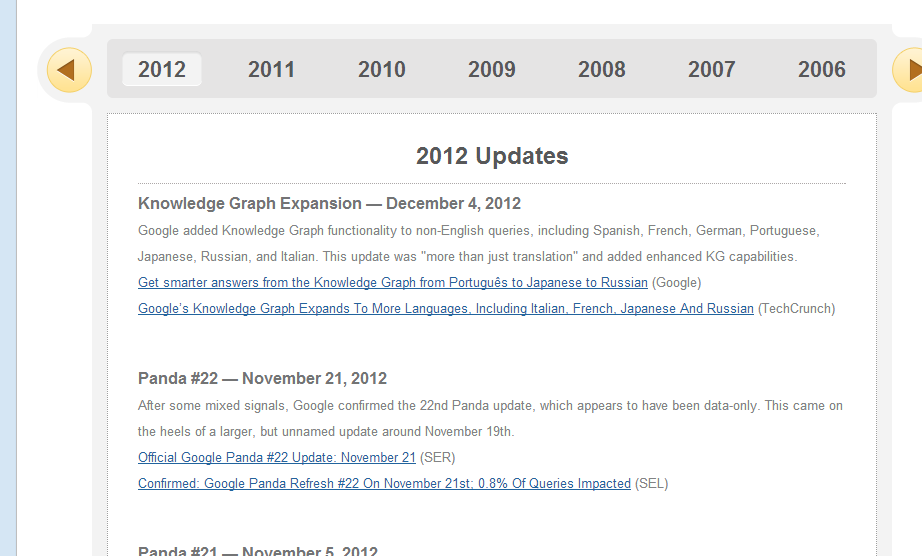 I analyse the different penalties using a tool called Chartelligence which allows you to overlay algorithm changes over your Google Analytics data or Quantcast data and identify which penalty you were affected by and when. It is a free Google Chrome plugin and really simple to use.

Once you know what penalty it was, you can set about fixing the problem.
Summary
The SEO world is ever changing and this was never truer than in the last 6 months. With the right approach, search engine optimisation delivers a huge amount of value to any business. You can easily protect against any penalties.

Let's see what the next 6 months has installed!

Author Bio
Jack Willis is the Managing Director of Marketing Grin, an online marketing agency that provides search engine optimisation to a number of businesses of varying size and in a variety of different industries. Jack has over 5 years' experience in online marketing and particularly enjoys getting stuck into online marketing campaigns where he can use all of his online knowledge. Jack also has a good level of experience in running Google AdWords campaigns, being an AdWords qualified professional, and of running social media optimisation campaigns.